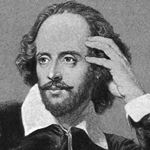 William Shakespeare (1564-1616) was an English poet, playwright, dramatist, and actor. Widely regarded as the greatest writer in the English language, he is often called England's National Poet and the "Bard of Avon" (or simply "The Bard"). His surviving works consist of 38 plays, 154 sonnets, two long narrative poems, and other shorter poems. Years after his death, doubts emerged about the authorship of the works attributed to him. There are some scholars who believe the true author was Christopher Marlowe.
PASSIONATE . TENDER . AMOROUS
Take, O Take Those Lips Away
Take, O take those lips away,
That so sweetly were forsworn;
And those eyes, the break of day,
Lights that do mislead the morn:
But my kisses bring again,
bring again,
Seals of love, but seal'd in vain,
Seal'd in vain.
Sonnet XVIII: Shall I Compare Thee to a Summer's Day?
Shall I compare thee to a summer's day?
Thou art more lovely and more temperate.
Rough winds do shake the darling buds of May,
And summer's lease hath all too short a date.
Sometime too hot the eye of heaven shines,
And often is his gold complexion dimmed;
And every fair from fair sometime declines,
By chance, or nature's changing course, untrimmed;
But thy eternal summer shall not fade,
Nor lose possession of that fair thou ow'st,
Nor shall death brag thou wand'rest in his shade,
When in eternal lines to Time thou grow'st.
So long as men can breathe, or eyes can see,
So long lives this, and this gives life to thee.
Carpe Diem
O mistress mine, where are you roaming?
O stay and hear! your true-love's coming
That can sing both high and low;
Trip no further, pretty sweeting,
Journey's end in lovers' meeting—
Every wise man's son doth know.
What is love? 'tis not hereafter;
Present mirth hath present laughter;
What's to come is still unsure:
In delay there lies no plenty,—
Then come kiss me, Sweet and twenty,
Youth's a stuff will not endure.
Painting: "Marguerite" by Hugues Merle (French, 1823-1881), oil on canvas, 1878. Brooklyn Museum.