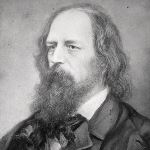 Alfred, Lord Tennyson (1809-1892) was an English poet who remains one of the most popular poets in the English language. He excelled at writing short lyrics, and much of his poetry was based on classical mythological themes. His first collection of verse, Poems Chiefly Lyrical, was published in 1830. Two of his most celebrated poems, Claribel and Mariana, were included in the volume. After the death of William Wordsworth in 1850, Tennyson succeeded to the position of Poet Laureate.
PASSIONATE . TENDER . AMOROUS
The Miller's Daughter
It is the miller's daughter,
And she is grown so dear, so dear,
That I would be the jewel
That trembles in her ear:
For hid in ringlets day and night,
I'd touch her neck so warm and white.
And I would be the girdle
About her dainty dainty waist,
And her heart would beat against me,
In sorrow and in rest:
And I should know if it beat right,
I'd clasp it round so close and tight.
And I would be the necklace,
And all day long to fall and rise
Upon her balmy bosom,
With her laughter or her sighs:
And I would lie so light, so light,
I scarce should be unclasp'd at night.
Marriage Morning
Light, so low upon earth,
You send a flash to the sun.
Here is the golden close of love,
All my wooing is done.
Oh, the woods and the meadows,
Woods where we hid from the wet,
Stiles where we stay'd to be kind,
Meadows in which we met!
Light, so low in the vale
You flash and lighten afar,
For this is the golden morning of love,
And you are his morning start.
Flash, I am coming, I come,
By meadow and stile and wood,
Oh, lighten into my eyes and heart,
Into my heart and my blood!
Heart, are you great enough
For a love that never tires?
O' heart, are you great enough for love?
I have heard of thorns and briers,
Over the meadow and stiles,
Over the world to the end of it
Flash for a million miles.
Painting: "Woman in White" by William Merritt Chase, c.1888-90.