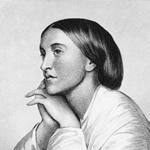 Christina Georgina Rossetti (1830-1894), was an English poet and younger sister of poet-artist Dante Gabriel Rossetti. She wrote a variety of romantic, devotional, and children's poems. Her best-known collection of verse is Goblin Market and Other Poems (1862). Other works include The Prince's Progress (1866), Sing-Song: a Nursery Rhyme Book (1872), and A Pageant and Other Poems (1881).
PASSIONATE . TENDER . AMOROUS
Monna Innominata

[I wish I could remember]
I wish I could remember the first day,
First hour, first moment of your meeting me;
If bright or dim the season, it might be
Summer or winter for aught I can say.
So unrecorded did it slip away,
So blind was I to see and to foresee,
So dull to mark the budding of my tree
That would not blossom yet for many a May.
If only I could recollect it! Such
A day of days! I let it come and go
As traceless as a thaw of bygone snow.
It seemed to mean so little, meant so much!
If only now I could recall that touch,
First touch of hand in hand!—Did one but know!
A Birthday
My heart is like a singing bird
Whose nest is in a watered shoot;
My heart is like an apple tree
Whose boughs are bent with thick-set fruit;
My heart is like a rainbow shell
That paddles in a halcyon sea;
My heart is gladder than all these,
Because my love is come to me.
Raise me a dais of silk and down;
Hang it with vair and purple dyes;
Carve it in doves and pomegranates,
And peacocks with a hundred eyes;
Work it in gold and silver grapes,
In leaves and silver fleur-de-lys;
Because the birthday of my life
Is come, my love is come to me.