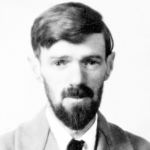 David Herbert Richards Lawrence, known as D. H. Lawrence (1885-1930), was an English author, poet, playwright, essayist, and literary critic. E. M. Forster described him as, "The greatest imaginative novelist of our generation." During his lifetime, Lawrence's opinions earned him enemies, and he endured official persecution and censorship for work considered "obscene." Although best known for his novels, he wrote almost 800 poems. Two notebooks of Lawrence's unprinted verse were posthumously published as Last Poems and More Pansies. His last major novel was Lady Chatterley's Lover (1928).
PASSIONATE . TENDER . AMOROUS
Tease
I will give you all my keys,
You shall be my chatelaine,
You shall enter as you please,
As you please shall go again.
When I hear you jingling through
All the chambers of my soul,
How I sit and laugh at you
In your vain housekeeping role.
Jealous of the smallest cover,
Angry at the simplest door;
Well, you anxious, inquisitive lover,
Are you pleased with what's in store?
You have fingered all my treasures,
Have you not, most curiously,
Handled all my tools and measures
And masculine machinery?
Over every single beauty
You have had your little rapture;
You have slain, as was your duty,
Every sin-mouse you could capture.
Still you are not satisfied,
Still you tremble faint reproach;
Challenge me I keep aside
Secrets that you may not broach.
Maybe yes, and maybe no,
Maybe there are secret places,
Altars barbarous below,
Elsewhere halls of high disgraces.
Maybe yes, and maybe no,
You may have it as you please,
Since I choose to keep you so,
Suppliant on your curious knees.
Gloire de Dijon
When she rises in the morning
I linger to watch her;
She spreads the bath-cloth underneath the window
And the sunbeams catch her
Glistening white on the shoulders,
While down her sides the mellow
Golden shadow glows as
She stoops to the sponge, and her swung breasts
Sway like full-blown yellow
Gloire de Dijon roses.
She drips herself with water, and her shoulders
Glisten as silver, they crumple up
Like wet and falling roses, and I listen
For the sluicing of their rain-dishevelled petals.
In the window full of sunlight
Concentrates her golden shadow
Fold on fold, until it glows as
Mellow as the glory roses.
Painting: "Reflections (Marcelle)" by Frederick Carl Frieseke, 1909.