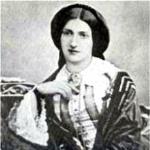 Elizabeth "Eliza" Acton (1799-1859) was an English poet and writer who produced one of the country's first cookbooks, Modern Cookery for Private Families (1845). Written for the basic housewife instead of a professional chef, the cookbook introduced the now-universal practice of listing ingredients and suggested cooking times with each recipe. Acton spent some time in France where it was rumored she had an unhappy love affair with a French officer. Her collection, Poems (1826), was published after her return to England.
PASSIONATE . TENDER . AMOROUS
How Sacred is the Lightest Thing
How sacred is the lightest thing
Which wakes a thought of thee !—
The wild-flow'r's lonely blossoming;
The young spring-zephyr's laden wing,
Are spells, which to my bosom bring
Rich tides of memory!
Soft tones of music floating far
At ev'ning o'er the sea;—
The trembling of the twilight star,
When not a cloud hath dar'd to mar
Its dewy smiles,–but sweet dreams are
Which lead my soul to thee!
I Love Thee
I love thee, as I love the calm
Of sweet, star-lighted hours!
I love thee, as I love the balm
Of early jes'mine flow'rs.
I love thee, as I love the last
Rich smile of fading day,
Which lingereth, like the look we cast,
On rapture pass'd away.
I love thee as I love the tone
Of some soft-breathing flute
Whose soul is wak'd for me alone,
When all beside is mute.
I love thee as I love the first
Young violet of the spring;
Or the pale lily, April-nurs'd,
To scented blossoming.
I love thee, as I love the full,
Clear gushings of the song,
Which lonely—sad—and beautiful—
At night-fall floats along,
Pour'd by the bul-bul forth to greet
The hours of rest and dew;
When melody and moonlight meet
To blend their charm, and hue.
I love thee, as the glad bird loves
The freedom of its wing,
On which delightedly it moves
In wildest wandering.
I love thee as I love the swell,
And hush, of some low strain,
Which bringeth, by its gentle spell,
The past to life again.
Such is the feeling which from thee
Nought earthly can allure:
'Tis ever link'd to all I see
Of gifted—high—and pure!
Where Art Thou Love
Where art thou Love! with thine eyes wild gleam,
And thy hair which floats in the sun's bright beam,
Like a golden banner of triumph, spread
O'er the hosts of a conqueror homeward led;—
Thy step like the bound of the light gazelle;
And thy voice more sweet than the soft lute's swell.
My beautiful one! come forth, and bless
Thy hunter who droops with weariness;
I have toil'd unresting a far, far way,
The spoils of the chase at thy feet to lay
Ah!—I hear from afar thy silver tone;—
I clasp thee now, my belov'd!—MY OWN !
I Turn From Pleasures
I turn from pleasures witching tone,
Though sweet the syren-strain may be
And wander silently, and lone,
To think, my own best love! on thee.
There's not a radiant blossom hung
On lowly stem, or lofty tree;
There's not a beam of beauty flung
Around me, but I think of thee.
And never doth the gentle ev'n
Shed her soft calm o'er earth and sea,
Lighting the golden stars of heav'n,
But tenderly I think of thee.
Painting: "Windflowers" by John William Waterhouse, 1903.