"Since I was a child I have written to understand myself and the world, to find the stories that show me the meaning I can make of my life." —Oriah Mountain Dreamer
8 poems
Oriah's popular prose-poem,
The Invitation
, is considered by many to be
the definitive litmus test for relationships. Her first book, based on the poem and also entitled
The Invitation
, sold over 300,000 copies and has been translated into more than fifteen languages. Oriah's writing is deeply personal and explores how to follow the thread of our heart's longing into a life where we can choose joy without denying the challenges of being human.
Books by Oriah Mountain Dreamer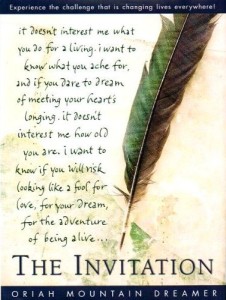 The Invitation
(HarperOne/2006) • In a world of endless small talk, constant traffic jams, and overburdened schedules, this international bestseller opens the door to a new way of life—a way of intimacy, honesty, and peace with ourselves, others, and the world around us.
Buy the Book | AUDIO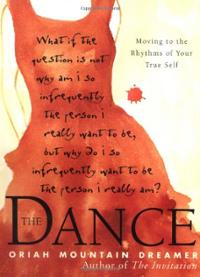 The Dance: Moving to the Deep Rhythms of Your Life
(HarperOne/2006) • Oriah expands on
The Invitation
and asks, "What if the question is not why am I so infrequently the person I really want to be, but why do I so infrequently want to be the person I really am." The challenge is to live with passion, energy, and honesty and savor the everyday world of family, friends, love, and work with clear minds and open hearts.
Buy the Book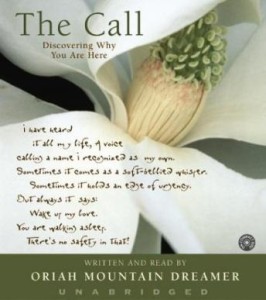 The Call: Discovering Why You Are Here
(HarperOne/2006) • Oriah explores how to heed the voice inside that is calling us to discover and live fully our true selves and heart's desires, not through the expectations of others or the outside world, but by finding our own unique calling deep within ourselves.
Buy the Book | AUDIO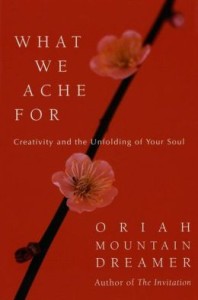 What We Ache For: Creativity and the Unfolding of Your Soul
(HarperOne/2005) • The creative process is as essential to human nature as spirituality and sexuality. This book is a spiritual exploration and practical guide on how to embrace and unleash your creativity—whether it's writing, painting, sculpture, dance, music, or film—and offer it to the world.
Buy the Book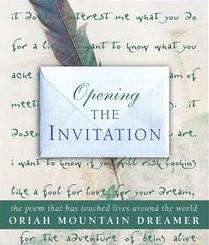 Opening The Invitation: The Poem that has Touched Lives Around the World
(HarperOne/2004) • Often moving and sometimes funny, this delightfully compelling book give a full, fresh account of how Oriah's beloved poem came to be, traveled the world, and, unknown to her, touched the lives of millions of people.
Buy the Book
Oriah Mountain Dreamer on CD
Your Heart's Prayer: Following the Thread of Desire Into a Deeper Life
(2002) • Somewhere beneath the surface of our wants and needs lies a deeper longing,­ a yearning that connects us to who and what we essentially are. Oriah takes us on an inspirational journey into the soul's desires, bringing a new vision to what it is that matters most.
Buy the CD