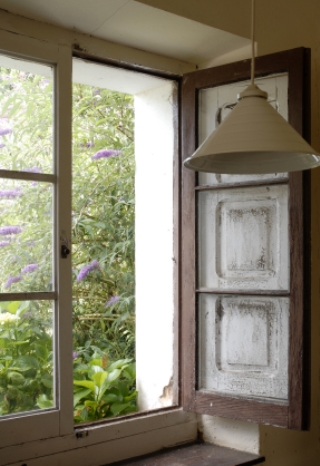 It's hard not to think of you
as I stand at the stove stirring oatmeal
looking out over the lake.
The morning sun touches the water
rippled by the warm breeze.
My sons' voices drift to me,
earnest conversation
as they do last night's
supper dishes at the picnic table
under the cedars.
Finally learned
how to make your own oatmeal,
after countless mornings
of waiting for me to do it.
And I did.
Hard to understand why a man
who can make a multi-million dollar deal
can't read those four lines of instructions
on the oatmeal bag.
Sometimes
when the breeze blows hot
and I float
dozing on the air mattress
drifting across the bay
I catch the sound of your laughter
booming out across the water
mixed with the shouts
and battle cries of the boys,
all of you in a deadly water fight.
And I raise my head to catch the sound . . .
and it's gone
like a ghost shimmering in the heat waves off the sand.
And the tightness in the centre of my body
aches like I have been kicked
and lost my breath
and may never get it back.
But there is nothing to be done
so I move my head
over the edge of the mattress
to float in the crystal, cold water.
My hair
a bronze mass of tendrils
drifts around me
and I let the hot tears
stream from the corners of my eyes
into the lake's icy depths
without a sound.
I want to make oatmeal one morning
and not ache in the centre of my body.
Copyright © 1995 Oriah Mountain Dreamer • All rights reserved.
Selection from DREAMS OF DESIRE (Mountain Dreaming, 1995, out of print).