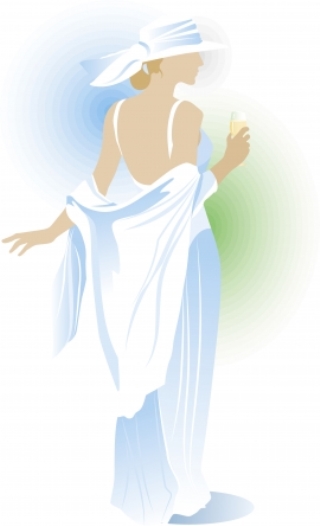 What is this strange reunion,
this homecoming to someone
I did not know I had left?
Bittersweet, it's hard to separate
the joy of returning to myself
from the sadness of missing
the one who is gone.
What is lost and what is found
are tangled together,
like legs caught in the bed sheets
after a restless night of love-making
or loneliness.
The dream of shared desire was a wisp
of smoke, a hope, a mirage
I sought to make substantive,
a reality I tried to earn,
having forgotten there is
no bargaining for faith or love.
These are by grace or not at all.
Something I am—some essence,
or awareness, or presence—
is watching this woman I am,
re-member herself.
Walking on the city street,
I catch a glimpse
of my reflection in a store window:
Long hair, full-skirted dress and sandals—
all three white light mixed with silver, mercurial—
fabric and hair floating around me on
the dark heat rising from the black pavement.
And the thought comes:
"I feel like myself again."
I am surprised, and a little shocked.
I did not know I had wandered so far
from who and what I am.
Far enough to have forgotten the fragrance of home—
the warm cinnamon scent
of the place where the animal self
surrenders to unguarded joy,
the place where the heart feels free
to welcome the unfettered passion
for moving quickly or being very still.
I had wandered so long
I'd stopping missing
or even looking for myself.
But I longed.
Although even that became muted,
an underwater echo, blue green,
and easy to miss.
Each day now a little more of who I am
is retrieved from the ocean floor:
the pleasure of my own cooking—
fresh eggs scrambled with rosemary,
and mushrooms, and sharp cheese;
the feel of silk across the back of my neck,
a cool caress to tender skin,
reawakening the need for touch;
the strength in my legs,
the joy of taking long strides
with nowhere to go;
the quiet of the morning,
as I sit facing east
just before the sun appears,
and then, the moment
when the sun crests the horizon,
my gaze behind closed eyes flaring crimson and gold.
No recrimination for my absence
I am welcomed as the prodigal daughter
Longed for,
Looked for,
Home at last.
Copyright © 2013 Oriah Mountain Dreamer • All rights reserved.