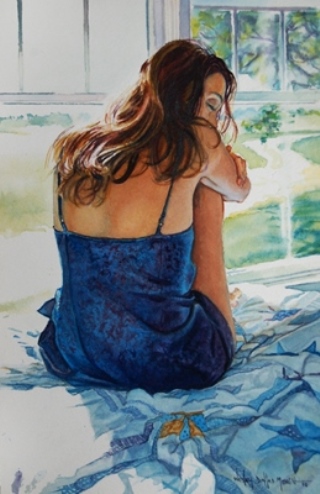 I have smiled at all the right times,
a broad smile, not clipped,
and my jaw aches;
but my heart aches more.
This is another year of loving you,
of waking up without you beside me,
one hand reaching out for a sleepy head
forgetting a dream is only a dream.
I imagine you touching this same moment
and its emptiness. If you look
between us and the farthest star,
you will see the impossible.
Every morning, when you let go
of my hand to drop me
from the darkness
into another day,
I know you don't turn
and go away easily
but sometimes
stay a while longer.
And when you look down
on me from a dream,
they are your tears
that fall down my face.
Copyright © Christine Magee • All rights reserved.
Painting: "Blue" by
Wesley Dallas Merritt
, original watercolor, 2010.