During the Victorian era, people often gave each other flowers and used the "language of flowers" (sometimes called floriography) to express feelings that, because of the propriety of the times, could not be spoken. The flowers said it all. Each flower, herb, and vine had a special meaning, and it was important to carefully choose those that best conveyed just the right sentiments.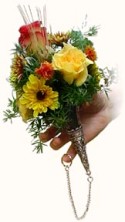 Small bouquets of tightly gathered flowers and plants, called Tussie Mussies, were common. These "talking bouquets," designed to carry specific personal messages, were often given by gentlemen suitors of the era to the young women they were courting.
Books on the language of flowers, listing flowers in alphabetical order alongside their illustrations and meanings, were popular and helped to identify the hidden messages to be found in floral gifts. By the end of the Victorian era, greetings cards were also widely available, depicting an appropriate flower for each occasion.
Today, though we still "say it with flowers," we no longer personally selected flowers based on their meanings. Instead, we choose flowers by color or preference and rely on the expertise of professional florists to create a perfect bouquet or floral arrangement.
A
Amaryllis – Pride; timidity; splendid beauty
Anemone (garden) – Forsaken
Anemone (zephyr flower) – Sickness; expectation
Apple Blossom – Preference; fame speaks him great and good
Aster – Variety; afterthought
Azalea – Temperance
B
Baby's Breath – Everlasting love
Bachelor's Button/Cornflower – Celibacy
Begonia – Beware
Bell Flower (pyramidal) – Constancy
Bell Flower (small white) – Gratitude
Bluebell – Constancy
Buttercup – Ingratitude; childishness
C
Cactus – Warmth
Camellia (pink) – Longing for you
Camellia (red) – Unpretending excellence
Camellia (white) – Perfected loveliness
Carnation (deep red) – My heart aches for you; pure love
Carnation (pink) – Woman's love
Carnation (purple) – Capricious; whimsical; changeable
Carnation (striped) – Refusal
Carnation (white) – Sweet and lovely; pure love; innocence; endearment
Carnation (yellow) – Disappointment; rejection; disdain
Cherry Blossom – Kind and gentle; spirituality; beauty
Chrysanthemum (red) – I love
Chrysanthemum (yellow) – Slighted love
Chrysanthemum (white) – Truth
Clematis – Mental beauty
Crocus – Abuse not
D – E – F
Daffodil – Respect or regard
Dahlia – Instability
Daisy – Innocence
Daisy (garden) – I share your sentiments
Daisy (Michaelmas) – Farewell
Daisy (multi-color) – Beauty
Dandelion – Rustic oracle
Fern – Magic; fascination
Forget-Me-Not – True love; forget me not
Forsythia – Anticipation
Foxglove – Insincerity
Fuschia (scarlet) – Taste
G – H
Gardenia – Secret love; you are lovely
Geranium (dark) – Melancholy
Geranium (ivy) – Bridal favor
Geranium (scarlet) – Contorting; stupidity
Gladioli – I am sincere
Goldenrod – Precaution; encouragement
Heather(lavender) – Admiration; solitude
Heather(white) – Protection; wishes will come true
Hibiscus – Rare beauty; delicate beauty; gentle disposition
Holly – Defense; domestic happiness
Honeysuckle – Generous and devoted affection; bonds of love
Hyacinth – Sport; game; play
Hyacinth (blue) – Constancy
Hyacinth (purple) – I am sorry; please forgive me; sorrow
Hyacinth (pink or red) – Play
Hyacinth (white) – Unobtrusive loveliness
Hyacinth (yellow) – Jealousy
Hydrangea – A boaster; heartlessness
I – J
Iris – Message; good news; glad tidings
Ivy – Fidelity; marriage
Jasmine – Amiability; you are cheerful and graceful
Jonquil – Love me; return my affection
L
Larkspur – Lightness; levity
Larkspur (pink) – Fickleness
Larkspur (purple) – Haughtiness
Lavender – Devotion; distrust; faithful
Lavender – Distrust
Lilac (field) – Humility
Lilac (purple) – First emotions of love
Lilac (white) – Youthful innocence
Lily (calla) – Magnificent beauty
Lily (day) – Coquetry
Lily (imperial) – Majesty
Lily (white) – Purity; sweetness
Lily (yellow) – Falsehood; gaiety
Lily of the Valley – Return to happiness
Lotus Flower – Estranged love; far from the one he loves
M
Magnolia – Love of nature
Marigold – Pain and grief
Mistletoe – I surmount difficulties
Morning Glory – Affectation
Myrtle – Love
N – O – P – Q
Narcissus – Self-esteem; egotism
Orange Blossom – Your purity equals your loveliness
Orchid – A belle; beauty; luxury; refinement
Pansy – Pleasant thoughts
Peony – Shame; bashfulness
Periwinkle (blue) – Early friendship
Periwinkle (white) – Pleasures of memory
Petunia – Resentment; anger; your presence soothes me
Poinsettia – Be of good cheer
Poppy (red) – Consolation
Poppy (white) – Sleep; my bane; my antidote
Primrose – Early youth
R
Rose – Love
Rose (bridal) – Happy love
Rose (burgundy) – Unconscious beauty
Rose (cabbage) – Ambassador of love
Rose (Christmas) – Tranquillize my anxiety
Rose (coral or orange) – Desire; passion
Rose (deep red) – Bashful shame
Rose (lavender or violet) – Love at first sight (lavender or violet)
Rose (light pink) – Joy of life; youth; energy; desire; passion
Rose (dark pink) – Gratitude
Rose (pink) – Perfect happiness; grace; trust; confidence
Rose (red-and-white) – Unity
Rose (single) – Simplicity
Rose (thornless) – Love at first sight
Rose (white) – I am worthy of you
Rose (yellow) – Dying love; platonic love; jealousy
Rosebuds – Beauty and youth; pure and lovely; girlhood
S
Smilax – Loveliness
Snapdragon – Presumption
Sunflower – Haughtiness; pure and lofty thoughts
Sweet Pea – Good-bye; departure; delicate pleasures; thank you for a lovely time
T – U – V – W – X – Y – Z
Tulip – Fame
Tulip (red) – Declaration of love
Tulip (variegated) – Beautiful eyes
Tulip (violet or blue) – Faithfulness
Tulip (white) – Modesty
Tulip (yellow) – Hopeless love; one-sided love
Verbena – Cooperative
Violet (blue) – Faithfulness; I'll always be true
Violet (white) – Modesty; innocence; let's take a chance
Violet (yellow) – Rural happiness
Zinnia (mixed bouquet) – Thinking (or in memory) of an absent friend