The dandelion is well-known as a weed.
It grows, most times unwanted, just about everywhere. Yet, this humble wildflower is also a symbol of hope, healing, and resilience for many people around the world.
The name derives from the French term dents-de-lion, referring to the way the flower's jagged leaves resemble the teeth of lions. A single dandelion head has up to 300 tiny petals that form to make the yellow flower.
A Traditional Sufi Tale

A young man named Nasreddin planted flowers in a garden, but when the flowers came up so did a great crop of dandelions among them.

Wishing to eliminate the unwanted weeds, Nasreddin consulted with gardeners near and far, but none of their solutions worked.

Finally, Nasreddin travelled to the palace of the sheik to seek the wisdom of the royal gardener himself.

But alas, Nasreddin had already tried all the methods the kind old man recommended to him for eradicating such troublesome weeds.

Silently they sat together for a long time.

At last, the royal gardener looked at Nasreddin and said, "Well, then, the only thing I can suggest is that you learn to love them."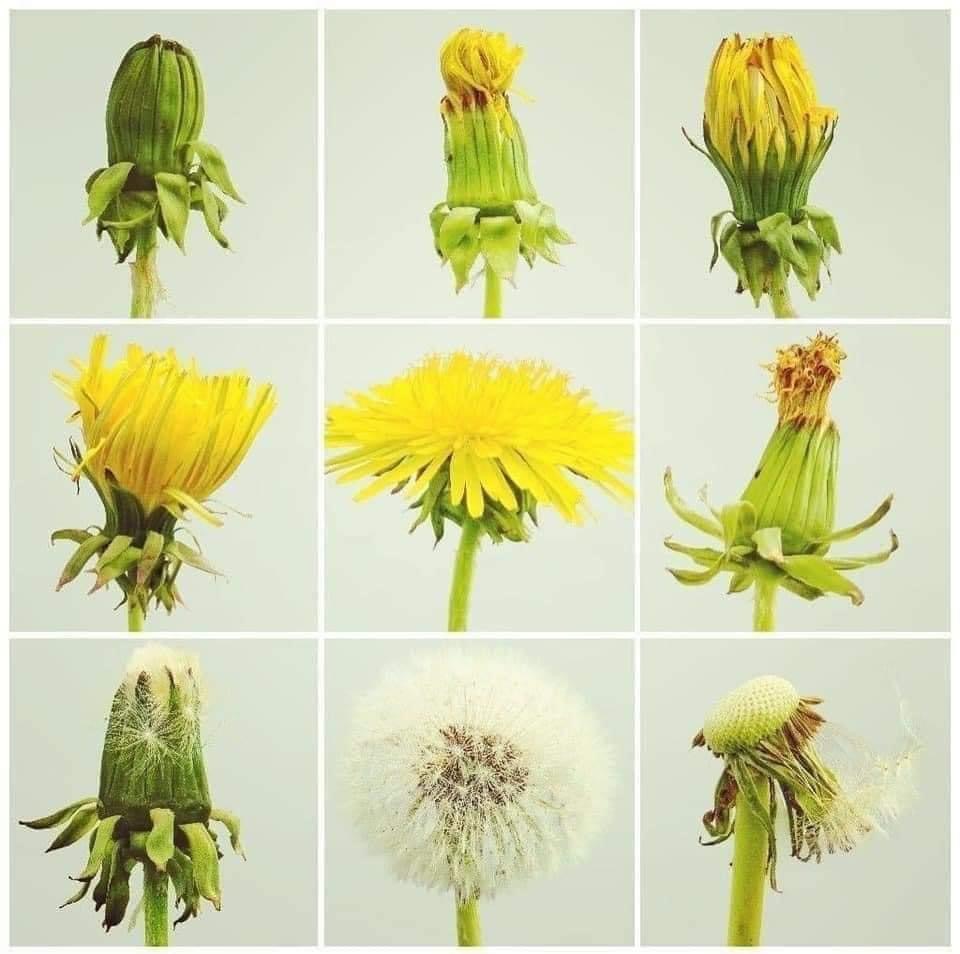 The three phases of a dandelion's lifecycle represent the sun (yellow flower), moon (white puffball), and stars (dispersing seed head).

Dandelions spread easily. The yellow flowers eventually turn to white globes of exposed seeds that are often called "puffballs." The seeds travel on the wind, settle typically within 6.6 feet, and sprout, continuing the lifecycle.
A dandelion blowing in the wind, which has become popular in tattoos and artwork, represents wishes for a good fate and serves as a reminder of life's transient nature, the importance of dreams, and the beauty of new beginnings.
Legends and lore
Many people believe that, if you make a wish while blowing on a dandelion, your wish will come true.
Though legends, myths, and superstitions surrounding dandelions vary with different cultures, the flower has deep roots in folklore and has long been associated with divination and the granting of wishes.
Looking for answers about love and the future? Look to the dandelion.
Legends have it that . . .
When you blow dandelion seeds into the air, the wind carries your thoughts and dreams to loved ones. If separated from a loved one, you should turn in the direction where your loved one is and blow the seed that way to send your message.
While blowing on a dandelion, assign a letter of the alphabet to each puff. When you're done blowing and all seeds have been dispersed, the letter you ended on is the initial of the person you'll marry.
If you want to dream about your future spouse, put a dandelion leaf under your pillow.
If you can blow all seeds off a dandelion with a single breath, you are loved; if some seeds still cling to the stalk, the object of your affection might not feel the same about you.
After blowing on a dandelion, the number of seeds remaining can determine:


• the age you will get married.




• how many children you will have.




• how many years you will live.

When woven into a bridal bouquet, dandelions bring the newlyweds good luck, prosperity, and wishes for a long and happy, fruitful life together.
The number of breaths it takes for you to blow all the seeds off a dandelion equals the hour of the day.
Because dandelions, once called "Shepherd's clocks," open shortly after sunrise and close again at dusk, they were used by shepherds out in the fields or children playing to tell when it was time to return home.
Dandelions can predict rain. If the seed heads are fluffy, the weather will be fine. But if the seed heads go limp or seed falls from the head on a calm day, it will rain. Also, if the yellow flower folds, like an umbrella, rain is coming.
Dandelions buried in the northwest corner of a house bring favorable winds.
The tallest dandelion stalk a child can find in early spring will show how much taller they will grow in the coming year.
If you rub a dandelion under your chin and your skin turns yellow, it means you like butter.
If a child blows on a dandelion three times and all of the seeds blow away, it is a sign that their mother doesn't want them.
In medieval times, when a dandelion was held under a child's chin and the skin appeared yellow, it meant the child would be rich one day. In 18th century England when children held dandelions under their chins, the more golden the glow, the sweeter and kinder they were.
If a child stands too close to a dandelion, it will make them wet the bed. But if a child sniffs a dandelion on May Day, they will not wet the bed for a year.
When you blow on a dandelion, the direction in which the seeds fly is the direction in which you should seek your fortune.
When dandelions appear in dreams, they are said to represent happy relationships. Dandelions in dreams can also symbolize purity and innocence—a reflection of your own inner child and reminder to approach situations with a fresh perspective.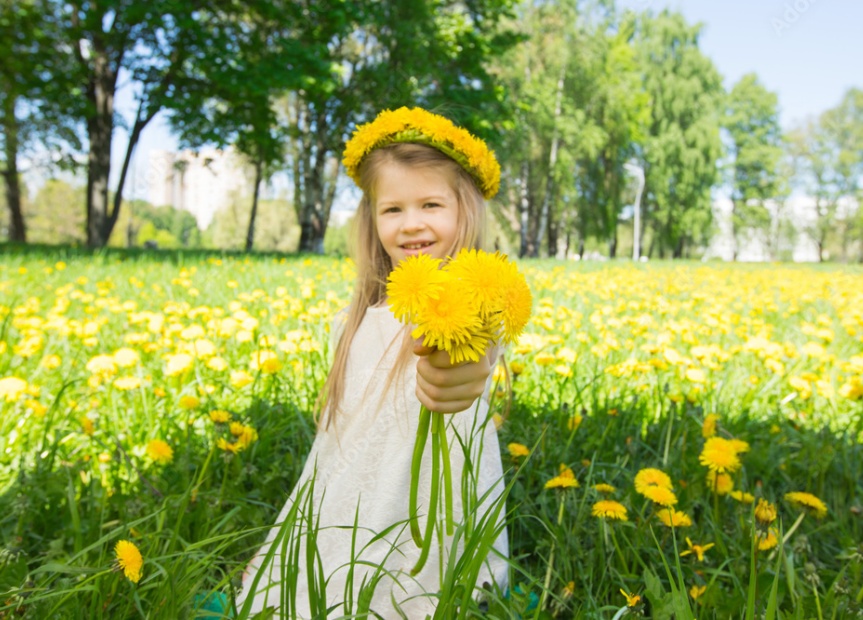 Legend of the Dandelion—the Children's Flower
he angel of the flowers came down to earth one day to find the flower that she loved the most. She searched far and wide, through field and forest and garden.
First, she came across a tulip and asked it where it would most like to live. The tulip replied that it would like to live on a velvety castle lawn where its colors would show up against the grey walls. It also said it would like the princess to touch it and tell it how beautiful it was.
Then, the angel asked the rose the same question. The rose said that as it was fragile and delicate. It would like to climb the castle walls which would shelter it from harm.
Next, the angel went to the forest and came across the violet. Once again, she asked it where it would like to live. The violet replied that it would prefer the shelter of the woods with the brook nearby to cool its roots and the trees to stop the sun from spoiling its beautiful color.
Later, the angel discovered a dandelion growing between two rocks. When she asked it where it would like to live, it said that it would like to live wherever children would see it . . . by the roadsides and in the meadows and even between the cracks in the city pavements so that it would make everyone happy with its bright color.
The angel then and there chose the dandelion as her favorite flower and allowed it to grow everywhere, from spring until autumn, just as it had wanted.
From For the Children's Hour by Carolyn S. Bailey and Clara M. Lewis, Yesterday's Classics (May 7, 2006) • Originally published by Milton Bradley Company, 1906.
Throughout history the dandelion has been a symbol of hope, healing, and the harmony between nature, childhood, and spirit. The bright yellow of a dandelion in early spring represents life . . . growth and renewal after a harsh winter . . . and the power and strength to start fresh. Because they are so adaptable and can grow anywhere despite our best efforts to eliminate their existence, dandelions also represent endurance and the determination to overcome obstacles and challenges that life throws.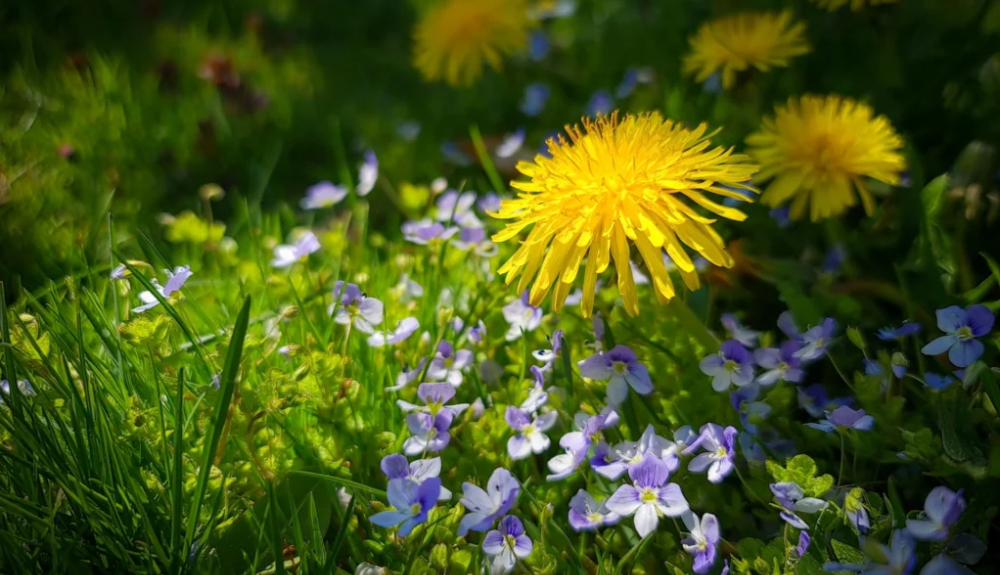 "What I need is the dandelion in the spring. The bright yellow that means rebirth instead of destruction. The promise that life can go on, no matter how bad our losses. That it can be good again." —Suzanne Collins
Dandelions in art
To a Dandelion
by Helen M. Johnson
Blessings on thy sunny face,
In my heart thou hast a place,
Humble Dandelion!
Forms more lovely are around thee,
Purple violets surround thee,—
But I know thy honest heart
Never felt a moment's smart
At another's good or beauty,—
Ever at thy post of duty,
Smiling on the great and small,
Rich and poor, and wishing all
Health, and happiness, and pleasure,
Oh, thou art a golden treasure!
A healing herb
For centuries, dandelions were valued for their effective healing properties.
According to ancient Chinese medical text (659 A.D), dandelions were used to treat stomach problems, appendicitis, and breast issues, such as inflammation or lack of milk flow. During the 10th and 11th centuries, Arab doctors believed dandelions were beneficial for a wide range of ailments—fever, toothaches, constipation, anemia, arthritis, diabetes, gall bladder problems, heartburn, skin irritations, and liver, stomach, and kidney disorders.
In "A Curious Herbal" (1739), Elizabeth Blackwell wrote that the dandelion was a common wildflower used by apothecaries to stimulate the flow of urine. She described its root as "about a finger thick and eight inches long full of a white bitter milk."
Across Europe, dandelions were a routine part of herbal medicine and were being used to treat all sorts of ailments—fever, boils, eye problems, baldness, diabetes, diarrhea, corns and warts, headaches, and the flu. Apothecaries prescribed dandelion root to their patients with liver and kidney disorders. Housewives grew dandelions alongside the vegetables and herbs in their gardens so they could make home remedies to keep on hand for sick members of their household.
Prized for its color, magic, hardiness, and well-known medicinal benefits, the dandelion eventually found its way to the New World when European settlers brought the plant with them to the American Colonies to cultivate in their kitchen gardens for medicine and food.
"It gives one a sudden start in going down a barren, stony street, to see upon a narrow strip of grass, just within the iron fence, the radiant dandelion, shining in the grass, like a spark dropped from the sun." —Henry Ward Beecher
Today, dandelions are used in herbal teas and dietary supplements.
Studies show that dandelions are rich in vital nutrients and loaded with vitamins, minerals, and fiber, including potassium, iron, zinc, and vitamins A, B, C, and D.
You can buy them in stores everywhere to treat liver and gallbladder problems, stimulate the appetite, and use as a gentle diuretic to help rid the body of excess fluid.


"The dandelions and buttercups gild all the lawn: the drowsy bee stumbles among the clover tops, and summer sweetens all to me." —James Russell Lowell
Yes, you can eat them
Every part of a dandelion is edible, from the top of its flower down to its roots . . . however, the milky latex liquid found in the stem is extremely bitter and not very appetizing.
Flowers: The flower head and petals can be used to garnish salads or added to just about anything you can bake—muffins, bread, cupcakes, cookies, or pancakes . . . or the flowers can be coated in batter and fried for tasty dandelion fritters. They can also be used to make tea and dandelion wine.
Greens: Dandelion greens are a part of many traditional cuisines: Kashmiri, Spanish, Italian, Albanian, Slovenian, Sephardic Jewish, Chinese, Greek, and Korean. They were once considered delicacies by the Victorian gentry who used them mostly in salads and sandwiches for added flavor. Dandelion greens slightly resemble arugula, though longer, and have a similar spicy and bitter taste. To make the leaves more palatable, they are often blanched to remove the bitterness, or sautéed like spinach in olive oil, onion or garlic, and topped with Parmesan cheese. They are also great for pizza or quiche.
Roots: Roasted dandelion roots can be used as a caffeine-free coffee alternative. You can find dandelion-based coffee substitutes at health food stores.
The dandelion roots and flowers have also been used in making yellow dyes, soaps, and salves, while the latex has been used as glue.
IMPORTANT: Do
NOT
eat dandelions that were or might have been sprayed with pesticides. Find a pesticide-free provider you trust or grow your own in a pesticide-free pot.
Though dandelions are generally considered safe by the Food and Drug Administration, they can cause side effects and allergic reactions and may play a role in certain drug interactions. Consult with your healthcare provider before using them.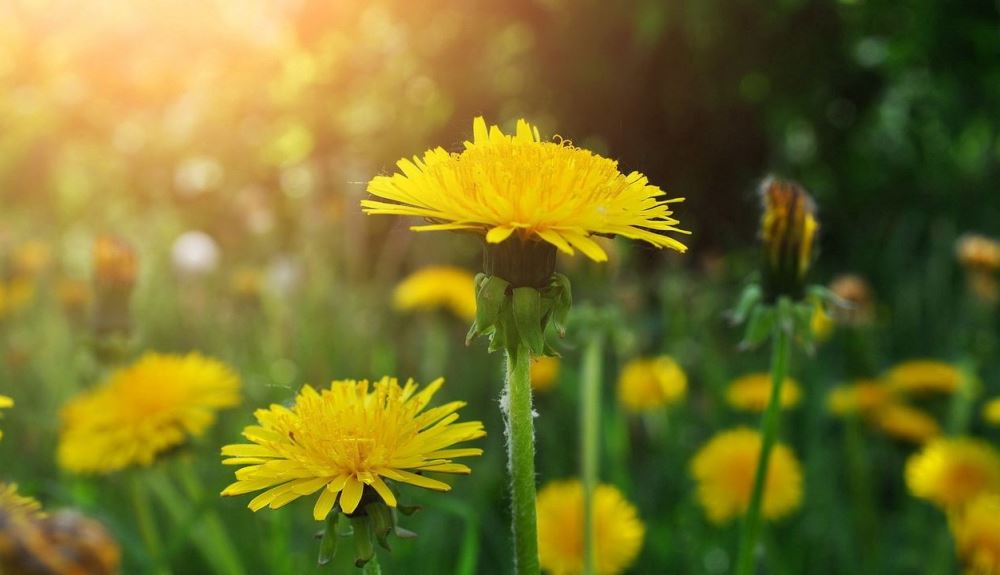 "Beautiful as a dandelion-blossom, golden in the green grass, this life can be." —Edna St. Vincent Millay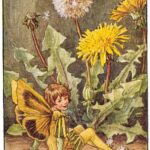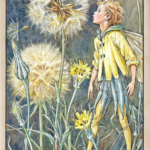 Puff! Puff! There they go!
Just like feathers—white
as snow!
See the fairies catch them too!
Floating o er the morning dew.
Up they go into the sky—
So
that's
how fairies learn
to fly!
Ah, sweet memories— We all grew up making wishes on dandelions and bringing back dandelion bouquets for mom. Sadly, once picked the dandelions never held up well even in water. But the wishes did. They followed us through childhood and lasted a lifetime. Sometimes, they even came true.
Make a wish . . .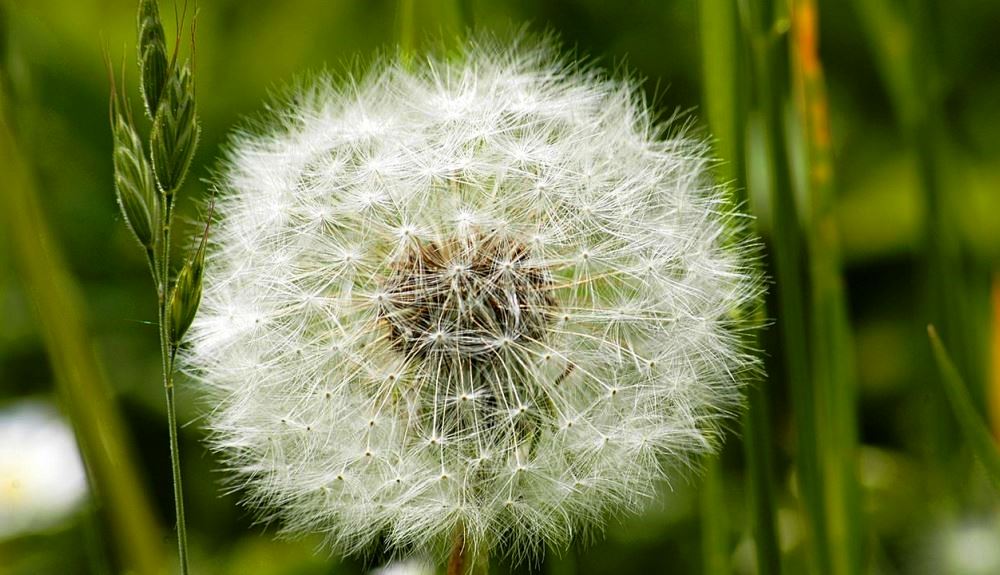 "Dandelions, like all things in nature, are beautiful when you take time to pay attention to them." ―June Stoyer
Photos by
Curiotweet
|
Neil Bates
and
Uwe Conrad
on
Unsplash
|
Jan Willemsen
.
Artwork:
(1) "Dandybees" by Maggie Vandewallewate.
(2) "Dandelions" by Olga Belash-Karasjoba, oil on canvas.
(3) "Still Life Thistles and Dandelions" by William Moore Davis, 1859.
(4) "Dancing in the Sun" by Oleg Riabchuk, oil on canvas, 2020.
(5) "Dandelion Fairies" by Mary Tarrant, 1936.
(6) "Meadows Whisper" by Tom Schmidt, watercolor, 2023.
(7) "Dandelions" by Marcin Moderski.
(8) "Dandelions" by Dolgor Dugarova (Dolgor Art), oil on canvas, 2021.
(9) "Dance of the Dandelion"; by Salvador Dali, 1944.
(10) "At the Dandelion" by Alexey Shalaev, 2014.
(11) "Dandelion the Garden Weed" by Julia Strittmatter, oil on canvas.
(12) "Dandelions Still Life" by Elizabeth Floyd.
(13) Dandelion Botanical Illustration by Anna Farba.
(14) Fairies by Cicely Mary Barker.
Sources: The Dandelion | 13 Emerging Health Benefits of Dandelion | 11 Dandelion Root Benefits | 11 Health Benefits of Dandelion | The Dandelion's Fall From Grace Has Been a Doozy. Can This Weed Become a Flower Again?